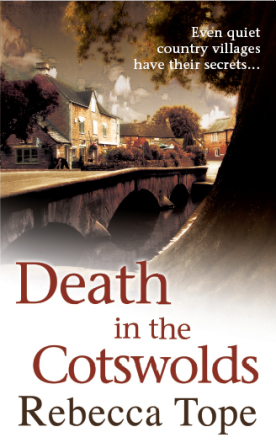 The third book in the Cotswolds Mysteries by Rebecca Tope is Death in the Cotswolds. This book has a different twist as it is told by Ariadne who is DI Phil Hollis' Aunt Helen's neighbor.
Aunt Helen has passed away and Phil brings Thea to her cottage to sort through his aunt's things while spending a week together along with their three dogs. In the little village of Cold Aston, life is quiet while a pagan group is planning Samhain (which are the origins of Halloween) celebrations. This group is frowned upon by the Freemasons who are very active and secretive.
Ariadne sells knitted items and is juggling this with her planning for the upcoming event. She discovers one is her knitters dead having been stabbed by a knitting needle while taking a walk on Notgrove Barrow which is the ancient place designated for the celebrations. Life is turned upside-down for Ariadne as she is interviewed by police as to her and her friends whereabouts during the crime.
In the middle of it all, she seems to be befriending Thea who is being left alone more often as Phil works on the case during his week's vacation time. Will she and Thea stumble into the killer among the villagers?
If you like cozy mysteries that have all the atmosphere on a small English village can bring, this is a series I can highly recommend. I am off to book four now...
Happy reading!
Heidi